VANGELINE THEATER
presents
the New York Premiere of
BUTOH BEETHOVEN
October 26-31, 2016
After a triumphant international tour, Vangeline Theater presents the New York Premiere of BUTOH BEETHOVEN: ECLIPSE (Admiring Tatsumi Hijikata), on October 26-31, 2016 at 8pm at The Producer's Club, Royal Theater, 358 West 44th Street, New York, NY 10036. New York Butoh dancer Vangeline conjures the ghosts of two passionate giants — Tatsumi Hijikata, founder of Butoh, and composer Ludwig van Beethoven in this hypnotic, electrifying and award-winning solo performance. Celebrate Halloween week with the haunting art form of Butoh and come dressed in your own costume to any performance.
Tickets are $20 General Admission and $18 for Students/Seniors.
BOX OFFICE: http://www.brownpapertickets.com/event/2582224.
Run-time is 60 minutes.
Featuring song interpreted by Kesang Marstrand
DATES: October 26 - October 31st, 2016 at 8pm- Wednesday through Monday
Closing night: Halloween! Come in costume all week!
Running time: 60 minutes
LOCATION: PRODUCER'S CLUB, ROYAL THEATER, 358 West 44th Street New York, NY 10036 between 8th and 9th Avenue
Subways: A/C/E to 42nd Street Port Authority
PRICE:
$20 General Admission /$18 Students-Seniors
Buy tickets here:
The word "Eclipse" is derived from the ancient Greek noun ἔκλειψις (ékleipsis), meaning "abandonment," "downfall," or "the darkening of a heavenly body" which in turn stems from the verb ἐκλείπω (ekleípō) which means "to abandon," "to darken," or "to cease to exist." Butoh is likewise the "Dance of Darkness" where performers first appear human, then as ghosts. BUTOH BEETHOVEN: ECLIPSE (Admiring Tatsumi Hijikata), is a solo piece that illuminates the darkness of Butoh with the addition of cutting edge lighting technologies such as the futuristic creations of European designer Tilen Sepič and fiber optic costume by the French company Lumigram. After touring this show for the past two years and receiving four stars at the Edinburgh Fringe Festival, five stars at Copenhagen Stage Festival and critical acclaim in the United States, Vangeline shines a new light on Butoh and will transport audiences.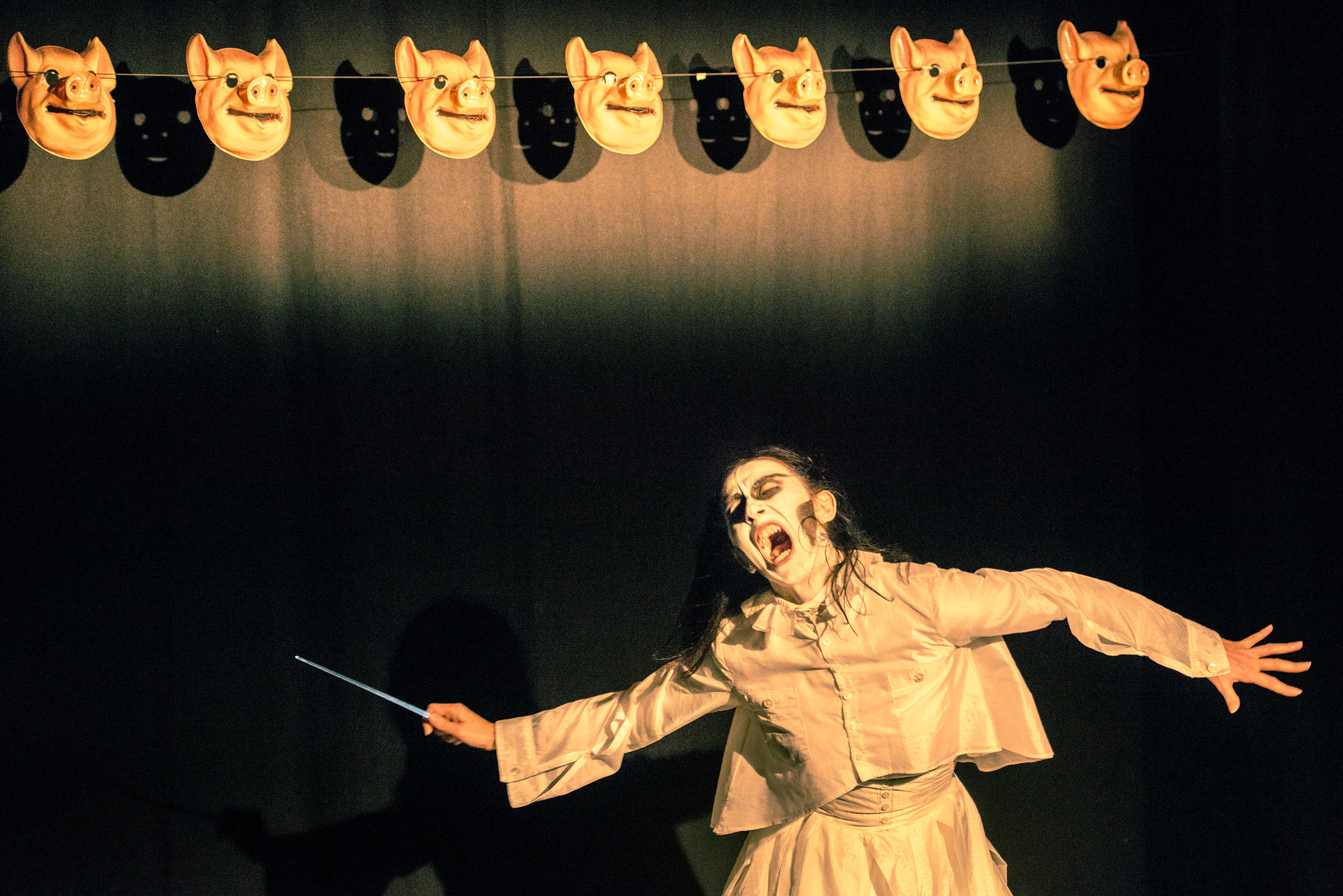 "Butoh Beethoven: solo done with integrity and bends time as butoh 'should'."
– Donald Hutera, Chief Dance Critic at London Times
"A mesmerizing and exhilarating jewel… Vangeline's exquisite control allows change where there seems no movement… a resplendent piece of performance theatre well worth seeking out: a true tour de force, literally a feat of strength, within and without."
- 4 stars-Edinburgh Fringe Festival, Edinburgh Spotlight
"…Using subtle and raw choreography, brilliant accompaniment and the power of her presence, Vangeline succeeds in bringing an essence of these iconic individuals to life on stage. The show enthralls from start to finish. Vangeline's performance is deeply engrossing"
-4 stars-Edinburgh Fringe Festival, Broadway Baby
Tatsumi Hijikata's costume worn for his last public solo performance in 1968 (Revolt Of The Body- Hijikata And The Japanese) is the inspiration for Vangeline's costume created by New York designer Todd Thomas.
VIDEO TEASER:
Dégustation gratuite de spécialités regionales de France
COMPLIMENTARY FRENCH CANDY ALL WEEK WITH PRICE OF ADMISSION
Enjoy delicious French confections and sweets all week
All made-in France from natural flavours and natural dyes
Berlingots de Carpentras

; Bergamotes Enveloppées;

Les petits Poucets de Vichy

; Les Madeleines de Commercy

; Les Titis de Paris;

Framboise de Vichy;

Assortiment de Papillotés

; Les Cerises de nos vergers

; Les Haricots de Tarbes; La menthe poivrée;

Les Napoléons de Flandre.
Publicity by Michelle Tabnick communications.
This program is supported in part, by public funds from the New York City Department of Cultural Affairs, in partnership with the City Council.